A Thank You...
I've wanted to thank those that nominated this story for an award at Quill to Parchment (
qtp_awards
), but I felt like it was a conflict because I co-mod the site with
lilbreck
. Now that the Round One winners have been announced, I'm totally flattered to announce that Then Shall I Know won the Overall Judges' Choice! *shows off her pretty*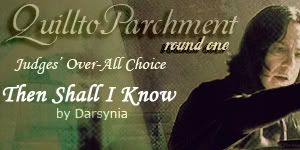 A huge thanks to those of you that have supported this story through my ups and downs! I know I disappoint by not updating as often as I should, and I won't excuse myself for that, though I do hope to break that trend. I'm heading to college in less than a month, something I have been wanting to do for years, and that may limit my time more, but my degree is going to be in writing, so we'll all benefit from that *wink*
Thanks again for the nominations!
~Darsy
ps. Round Two will begin August 1st, if anyone wants to nominate their favorite stories (whether or not they're by me *grin*). Keep an eye on
qtp_awards
and
Quill to Parchment's Main Site
.